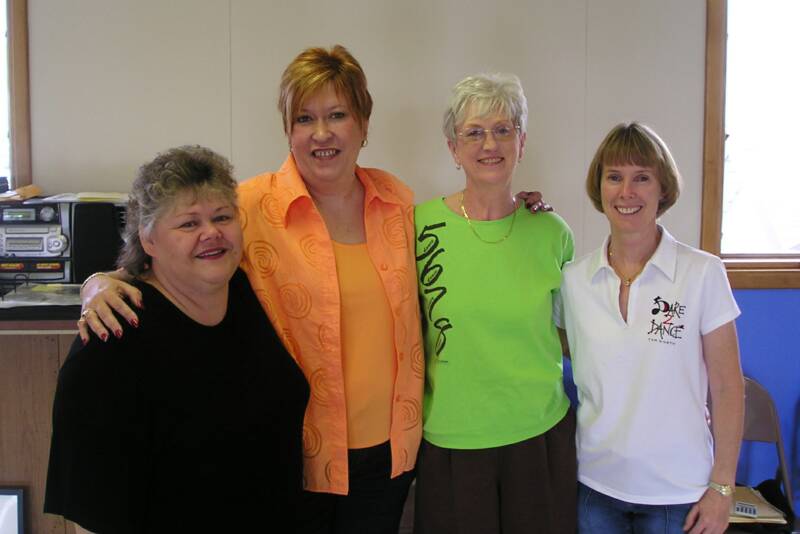 DARE 2 DANCE IN CHEEKTOWAGA

September 16-18, 05

"What a thrill to learn from and teach with Joanne Brady", I thought after being invited to the 'Dare To Dance Workshop with Joanne Brady' in Cheektowaga, near Buffalo,  the weekend of Sept 16-18.   I first saw Joanne at 'Dancing in the Park' in Kichener, Ontario.   She was Scooter Lee's sidekick and kept us in stitches.   A definite people person, she was not one to stay at a distance.  You would glance up to see her on the dance floor right beside you learning from another instructor, or having a coffee with a group of dancers a few tables down.  Her impromptu skits with John Robinson were hilarious and I'm sure they could have had a good future as a comedy team!!  So I was very excited about this opportunity.

But my priority was to dance!  However, before the dancing began I had the opportunity of chatting to Lorraine and Pat Jankowiak, the organizers.  They are avid line dancers and after attending a number of workshops in Canada and the US they decided to bring one to Buffalo.  The question was 'Who would be the key Instructor?' They first saw Joanne in Kichener (as I did) and then at a couple of subsequent events and were so impressed with her teaching style that they reckoned she would be the ideal instructor for their local line dance community.    The first workshop four years ago attracted a small group of 25.  This year there were 65 including many dancers from beyond the Buffalo borders, as far away as Canada, and the feeling was that it is definitely growing.  The only hiccup was, as Joanne told the dancers, "The hall will only hold 70 so you had better book early next year!"

Joanne is an excellent instructor of all levels of dances and chose a good mix for this event.    We warmed up with 'Betty Lou Boogie' by Anita McNab, then 'Hit the Road Jack' by Ian Dunn;  'Irish Stew' by Lois Lightfoot brought smiles to the dancers' faces.  Then we tackled 'Backseat Blues' by Dan Albro.  A little trickier, but Joanne knew how to bring us along and everyone enjoyed it.  She also taught Dan's big hit 'Syncopated Love' on Sunday.  We had fun with Joanne's new partner dance 'First Attempt' to 'Mr. Teardrop' that is also a nice option for couples when 'Caught in the Act' is on the floor.  'Gordita Linda' by Max Perry was well received and we cooled down with 'Rhythm of the Falling Rain' by Teresa Lawrence and Vera Fisher.   I had to leave at 12:30 but Joanne stayed on until the last moment around 4 p.m. when she had to leave to catch her flight.  Certainly, she taught a 'full value' workshop.

We also had the pleasure of learning a dance from Lorraine who teaches a regular class and heads a demo team.   There were lots of laughs as we tackled the contra dance 'Trainwreck' by Kathy Hunyadi!

I had a lot of fun with these friendly dancers teaching 'One Bad Day (then I'll be OK!)', 'Good Times', ' Just 4U', 'Clap Your Hands' and 'Wishes' (by special request).   It was a great weekend and I feel like I have made some new dancing friends. 

If you want to find out about the plans for next year's event, then do contact Lorraine at 716 471 8925 or e-mail lorrainehapeman@yahoo.com, or Pat at 716 635 0556.

PS   I should add a special footnote.  Popular Canadian instructor, Andrew Kennedy, has not been dancing for a few years on medical advice.  However, he made a special visit down to see Joanne.  He snuck into the corner of the room and the astonishment and pleasure on Joanne's face when she turned and saw him and burst into tears was heartwarming.    All those who know Andrew will remember what a wonderful dancer and instructor he was.  You will be pleased to know that he looks very well and fit although he has been told he cannot risk dancing and re-activating his old medical problem.    I wish him all the best and thank him for the many years of dancing pleasure that he has given us.

Buffalo is not too far from Toronto, just a short way over the border from Niagara Falls.  The Event Organizer, Lorraine Hapeman, had booked me into a hotel right next to the Galleria Mall.  If you like shopping this is the place to go!  It's an enormous Mall and I defy anyone to go shopping there and come out without any packages in their hands!!   There is lots of choice for accommodation close to the Event Hall from lower cost motels and up.  The Millennium Hotel where we stayed had an incredible deal.  Each room was allocated $100 per day for food (including alcohol).  You could eat either in the restaurant or have room service.  The food was first class, absolutely delicious – the trip was worth it for the eating alone!!

So why this event in particular?  First of all the complete package is just $55.  It includes the Friday and Saturday night dances and the Saturday and Sunday workshops.  At the dances the generous event organizers had snacks available along with beer, wine, coffee and pop – no extra cost!  During the day, there was coffee and water along with snacks and fruit put out for us.    The atmosphere is very low key, friendly and not intimidating and the organizers were always around with friendly smiles on their faces. 

And then, of course, there's Joanne.  She is one of those instructors that you feel really gets to know her dancers.  Joanne connects with each and every one.  She teases, cajoles, pokes gentle fun at us and laughs at herself!   In addition to this, she is an extremely competent, experienced, patient instructor who can clarify a move so that all can manage it.   

Joanne and I with Lorraine & Pat