THE FLORIDA LINE DANCE EXPERIENCE

Winter 2006

Some of you reading this might remember that I'm not too keen on winter weather and if it's at all possible I like to escape to somewhere warmer!  This year was no exception and as the arctic wind made its way down to Toronto my husband Michael and I kept just ahead of it as we wended out way down to Isla Del Sol near St. Pete's Beach in Florida.   This lovely area offers beautiful wide beaches with dolphins playing in the Gulf waters just off shore; hibiscus bushes blooming and palms swaying in the breeze; in combination with great eating and shopping!  What more could a person want …. unless, of course, he/she is a line dancer!!!

ROUND-UP, Ft. Lauderdale

As it happens, Florida offers terrific line dancing as well!  Our first stop on our trip down was in Ft. Lauderdale with an ad-hoc visit to 'Round-Up' managed by DJ John Lindsay with line dance instructor Lisa Spangler.  It was a very nice surprise to see John.  The last time we met was when he was the DJ for the Tampa Bay Line Dance Classic and did a terrific job of mixing the music and keeping the dance floor full. The country clubs down here are great and this one was no exception.  A very smart looking country bar with a great wooden dance floor, the club offers line dance and couples lessons almost every evening.  Lisa is a lively instructor who obviously loves to dance and she was most welcoming to her surprise visitor.  To my delight she had taught some of my dances and asked if I would re-teach one of her favorites 'Good To Me'. 

TAMPA DANCE CAMP

The Tampa Dance Camp was next on the agenda.  Barry Durand had organized a line dance cruise to go out of Tampa.  As it wasn't leaving until the Monday morning he decided to have a dance weekend for line dancers and couples before they all headed out to sea!  Line Instructors included Barry himself, Max Perry, Kathy Hunyadi, Scott Blevins, Rachel McEnaney, Guyton Mundy, Johanna Barnes, local instructors Paula Messier, Kathy Brown, Marilyn McNeal and Debi Dillow.  I had fun teaching 'Dancin' Somethin' Right', 'Don't Let Go', 'Just 4U' and 'Soft & Slow'.  The birthday boy, DJ Louie, was celebrating at the helm of the sound system controls.  In addition, Barry offered a five class teachers program and there was a separate room for swing dancing.  There was a choice of two line dance rooms on both Saturday and Sunday, one of which was the hotel's breakfast room.  Some of the hotel guests were quite intrigued to watch the dancing as they drank their morning coffee!

As always there are vignettes which come to the forefront when I think of dance weekends – this time around the evening show was a highlight with wonderful performances, both couples and line, mixed in with Guyton's new peaked hairdo (he was a good sport!).  Watching Rachel dance is always a delight; Guyton 'shaking' on the dance floor!;  learning a 'Max classic' -- '40 Days' -- was a pleasure, and checking out Kathy's hand made crafts that would cost much more in the boutiques was fun.    What I also noted and liked was how the Florida instructors attended each other's classes.  It is understandable when big name instructors are offered as a choice that the instructors should choose to go to their classes but the Florida instructors also supported their own and there sure are some good instructors down here.

Many thanks to Barry for organizing the event.   Barry is involved in numerous aspects of our dance community.  He is the publisher of '5678 Dance' and the organizer of a number of other events, one of which was a founding UCWDC event back in 1988.  Subsequently, Barry was inducted into the UCWDC Hall of Fame and he has continued to play a key role with that organization.  His love of dancing is obvious and bridges the gap between couples and line dancing. One thing I should add is that I had not realized that Barry had written 'Funky Cha Cha' which is a dance I love and he taught an update of it at the weekend..  Some of the discussions in the teachers' program got me to thinking that we definitely need to remember that line dances are individual creations and that it is important to recognize who the choreographers are. Once a connection is made between a dance and an individual, there is more incentive for dancers to check out events in order to see and learn from the creator of their favorite dance.  So … instructors don't forget to announce the names of the choreographers when you are teaching, they and the dancers will thank you for it!  I should also add many thanks to all instructors for the energy, dedication and enthusiasm they bring to the job of teaching us.  It is an enormous amount of work; first of all deciding what to teach, then learning it, getting the music and so on, before they even stand before the dancers.  Hopefully the reward is the enormous pleasure their instruction of our favourite form of dancing brings to the dancers as well as the health benefits gained.

I should add that I had a lot of fun with my gang from Toronto and Peterborough; also did some catching up with dancing friends I hadn't seen for a while including talented instructor/choreographer Carole Daugherty from Michigan who did some teaching at the local clubs while she was down enjoying the Florida sunshine.  Scott Blevins taught Carole's dance SOS at the event.  Nice to see Carol and Bucky Cravens although those two never leave the dancefloor so you have to chat to them on the run!  One of the main problems of having line dancing friends!!!

I am looking forward to hearing reports from the cruise – sounds like everyone was prepared for a good time!!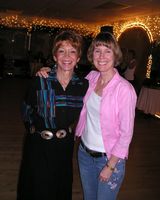 DANCERS' RENDEZVOUS, Clearwater/JOYLAND, Bradenton

Then on over to the Gulf and it was here that I was most happy to get the opportunity to visit my good friend, Arline Winerman.  We go back to when Arline asked me as a complete unknown to teach one of my dances at a Scooter Lee concert she had organized.  Despite an attack of acute nerves as you can imagine, it was an absolute thrill that I've never forgotten. I've always been grateful to Arline for taking such a chance on me – she really is a special person. In addition she is one busy individual!  As well as teaching a number of weekly classes of all levels and instructing at workshops across the country she is also the event director of the very successful Tampa Bay Line Dance Classic.  Besides being a very capable instructor, Arline is a warm, friendly person and it is obvious that her dancers enjoy being around her as do I.  I was delighted to teach 'Soft & Slow' to her very patient Thursday class at an attractive dance studio, The Dancers' Rendezvous, in Clearwater.  Then on to Joyland, a country bar in Bradenton, to teach 'Don't Let Go'.  What a delightful surprise I had that night when fun-loving Lola, her husband and a gang of their friends, drove a long distance to catch me totally unawares and Betty and Clare (on holiday from Toronto) drove two hours to see the astonishment on my face!  What wonderful friends I have made through line dancing --- I consider myself most fortunate.

WATERIN' TROUGH, Pinellas

Next up was Sandy Schoenberger's class at the 'Waterin' Trough' in Pinellas.  I met Sandy at the Tampa Bay Line Dance Classic and enjoyed her company from the word go.  She is one of those open, welcoming people with a great sense of humour who you just have to have fun around! Sandy is a very capable instructor who teaches four nights a week in this large friendly country bar -- there are plans ready to go for a new spot which will be worth checking out.. I very much enjoyed learning a dance from Sandy as did the other dancers on the floor and then it was my turn to teach 'Good Times' and 'Don't Let Go'.  It was a pleasure again to see friendly familiar faces both local and from Ontario.  Line dancers sure get around!

ROUND-UP, Tampa

Round-Up in Tampa has been fortunate to have Paula Messier at its line dance helm for the last eight years.  She is a tiny dynamo with boundless energy and good humour.  Paula, an excellent instructor, teaches all levels from beginners to advanced dancers and keeps constantly up to date with the latest offerings which is a full-time job for sure.  Round-Up has an interesting payment option for dancers -- $125 will give you a year's dance card which you can use any night of the week as long as you come earlier in the evening.  It's great value for the dancer and Paula says it works very well.  As usual the avid line dancers are the early birds and the youngsters take over the club after 10.  Many thanks to Paula for inviting me to teach and, again, it was such a pleasure to see familiar friendly faces who made me feel very welcome and local instructors Christine Bass and John Dembiec who had come along to say hello.  They were all very patient with me as I taught 'Just 4U' and 'Don't Let Go'.

BUCK WILD, Lakeland

For a number of years now, I have periodically heard from Doug Westerlund about teaching my dances so it was a real pleasure to finally meet him in the flesh at Buck Wild in Lakeland and put a face to the e-mails!  A tall charming,man with a wide smile, Doug interrupted his instruction to greet me.  The floor then filled with smiling dancers who joined me on the floor for 'Fiddlesticks'.  They were a fun group to teach 'Don't Let Go' to and then Doug competently took over for 'Soft & Slow'.  Doug shares the teaching with Kathy Brown who is an accomplished choreographer as well as instructor.  Kathy was teaching at a workshop that night but I had an opportunity to take a class from her at theTampa Dance Camp.  Buck Wild is fortunate with its instructors.  It also has an absolutely excellent dance floor of which the dancers were very proud, with a line of lights on the floor which effectively divides the line dancers from couples.  There were again many familiar welcoming faces who put a smile on my face; as well, many thanks to Bill McGee and wife Lynda for coming all the way to join me on the dance floor.


What an amazing place -- a totally new concept in returement living!  The first thing you notice are all the goft carts whizzing around -- that is the mode of transport in the villages to the extent that there are roads specifically for the carts and also tunnels that take the carts under the intersections of the 'ordinary' roads.  They  can be driven 24 hours a day, take very little gas or are run by electricity.  Some are very basic; others have little heaters, coolers or even TVs in them!  Jean took me on a ride and it was so much fun!   Jean explained that there a number of distinct separate villages that combine for the whole.  Each village has it's own recreation centre, swimming pools etc., and then there are larger centres that everyone can use as well.  Add in twenty-one 9 hole Executive courses and at least eight Championship golf courses (including the Arnold Palmer and Nancy Lopez courses), tennis courts etc. and you need never stop.  And, what is quite amazing is that for just $113 per month the common grounds in the Villages are maintained and landscaped to perfection and the Recreation Department Activities and Town Square nightly Entertainment are free!  

It was time for my first Villages line dance class.  First I should say that the Centres are like the smartest hotels -- these are no ordinary recreational facilities.  The room Jean took me to was lovely and as I entered I was confronted with a packed room of certainly more than 100 dancers.  The twins, Margaret and Rose, were in charge and what fun these two are -- no wonder everyone was enjoying themselves..  My arm was easily twisted and I was soon teaching 'Clap Your Hands', 'Soft & Slow' and going over 'Good To Me' and 'Wishes'.  I was thrilled to hear of the number of my dances that the Villages are now calling their own. 

The next morning Jean was off and running around 8 to teach a class for a fellow instructor and Dick took me down to join her at 9 and then he and my husband Michael headed off to try their hand at the golf range and check out pickle ball (there's a story behind the name of this sport that I'll get to another time!).  Jean had told me she would be teaching a large class but I was not prepared for the massive hall and the 250 dancers that I found there..  Jean was perched up on the high stage at the very end of the hall.  This was the tail end of the beginners session and they were doing well.  As a tall man next to me said, "She is such a great instructor".  An elementary teacher for many years, Jean is an extremely well organized,  patient and fun-loving teacher and a great proponent of repetition!  I was soon up on the stage for 'Clap Your Hands' and continued on to review 'Good To Me' and 'Wishes' with the intermediates.  Jean told me that when she first offered to teach a beginners' class, with no advertising whatsoever except word of mouth,  387 wanna be line dancers turned up!  That class was divided and is now two separate groups of around 250 each which Jean teaches on Tuesday afternoons.   The classes are taught in an even bigger, absolutely beautiful hall which Jean took me to visit.   I should add that the enthusiasm for line dancing both on the part of the instructors and the dancers does the heart good.

All too soon, it was time to say goodbye to our gracious and hospitable hosts.   I just hoped that some of Jean's energy and enthusiasm had rubbed off on me on our short time there and am very much looking forward to another visit in the not too distant future..

Marilyn had prepared a delicious meal for us and as we ate she told us that when she met Ray she was already an avid dancer.  Although rather apprehensive about it and sure he had two left feet, Ray was willing to have a go.  With determination and after much practice, the two of them started competing and ended up winning a Worlds Title in 1996.  What a success story.  Unfortunately, subsequently Marilyn had to have foot surgery and found that her foot still pained her with the turning in competitive couples but she could still line dance and she has now been teaching liine dancing for many years, the last five at Midnight Rodeo although she also teaches a number of other day-time classes as well. 

It was clear from the way that Marilyn spoke about her Club, that the Midnight Rodeo gang are a close knit group of dancers and she thinks of them as caring friends. It was party time that night and when we arrived the tables were being set with piles of goodies.  Lots of smiling faces greeted us, many whom I had met at the Tampa event and a gang up from the Villages.  It was very good to have the opportunity to meet up witth them all again.  A conscientious instructor, Marilyn always prepares a play list for the DJ -- she likes to make sure that there is something for everyone on the dance floor and that night seemed to be no exception.  There was a mix of the old and new and the floor was full.  I had taken Marilyn's classes before and knew what a good instructor she is -- low key, yet clear and precise, she is easy to follow.     It was a hard act to follow but the dancers were patient with me as I taught 'Soft & Slow' and 'Don't Let Go'.  All too soon it was time to head home although many of the dancers lingered.  It was obvious that they are as fond of Marilyn as she is of them.

The next morning we were delighted to have a little time to spend with Ray before he had to head off and then it was time to visit the barn.  This space  is a dancers' dream built by Ray with a little help from his friends.  Half of it contains an enormous floating wooden dance floor with mirrors on one side, while the other half has a kitchen area and tables and chairs for the watchers.  In addition there are seating areas outside the barn and a large fire pit in the middle of the trees.   Twice a year the McNeals host a dance party here and invite all their dancing friends.  Ray is the cook; I've eaten his cooking and can testify that he should open up a restaurant!  Marilyn is the DJ so the dance floor is always full and, as you can imagine,  she said that people are always loathe to leave when the end of the evening draws nigh!

That is indeed how we felt when it was time for us to hit the road to Toronto.  Marilyn and Ray are very special people, warm and caring, and it is a pleasure to be in their company.   If you get the opportunity to dance at Midnight Rodeo don't miss it, it will be well worth the trip.

.     

THE VILLAGES

At this point it was sadly time for the long trek back to Toronto but we still had a couple of adventures left and the first was to visit Jean Brewer in the Villages.  I had a lot of fun with Jean and her friends from the Villages at the Tampa Line Dance Classic last November and as I was leaving she wrote her telephone number down and told me that I should come and visit should I ever pass their way.  The Villages gang said their home was a unique place and definitely worth a visit.  So I took them at their word and a couple of hours out of St. Petersburg we knocked on the front door of the home of our welcoming hosts, Jean and Dick Brewer, and were soon being taken on a tour.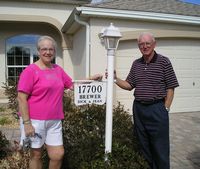 MIDNIGHT RODEO

One more adventure to go, this time to visit Marilyn and Ray McNeal and Midnight Rodeo.   I met this charming couple a couple of years ago at the Tampa Line Dance Classic and Marilyn and I have been in touch by e-mail ever since.  She had asked me to visit and teach at her club if I happened her way and the timing on this trip was just right.  Ocala is about 30 minutes from the Villages and from our meeting point on the highway we followed Marilyn through winding roads bounded by towering trees to her and Ray's little bit of heaven.   You would never know you were just minutes from the  city centre.  Their lovely ranch style home is set well back from the narrov dead end road, a huge barn is set off to the side (I'll get back to that later) and nestled at the very end of their well treed lot is their chicken run -- fresh brown eggs everyday.  The neighbours on one side have a bull and on the other have only just sold their prize winning pigs!     It was so quiet and peaceful that I could see how it serves as a perfect sanctuary for Ray who is a highly regarded State Family Law Court Judge.

Check out other reports on Florida Line Dancing: